Society
The nursing care business is based on the understanding and cooperation by the local communities.
And in return, TSUKUI GROUP is engaged in various activities that contribute to the communities.
Providing support to people with dementia
Building communities that are friendly to people with dementia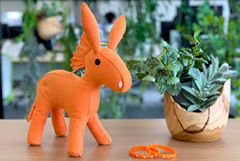 As of March 2021, there are about 5,300 "dementia supporters," who have the correct knowledge and understanding of dementia, in the TSUKUI Group. In addition, we held the "training course for nurturing dementia supporters" approximately 100 times in FY 2020, including online courses, and about 1,400 people participated. We also held the Alzheimer Café, a place for information exchange among people with dementia, their families, and supporters, approximately 30 times and about 300 people participated. Together with other efforts, the TSUKUI Group is committed to creating a community that is friendly to people with dementia.
Support activities during disasters
Our mission is to assure safety and security in customers' daily lives.Naturally, we must never fail to prepare for a disaster.
To safeguard against an event of a large-scale disaster such as earthquakes and floods, we conduct regular disaster drills at each of our centers and facilities, based on our disaster preparedness regulations and the business continuity plan (BCP).We also stock up drinking water, food, and household supplies to ensure the safety of our customers' lives in the event of a disaster.
In addition, TSUKUI strives to keep local communities safe. When the Great East Japan Earthquake, the Kumamoto Earthquake, and the Hokkaido Eastern Iburi Earthquake occurred, our local facilities carried out support activities for the local communities hit by the disasters, which included providing relief supplies and dispatching our support staff.
Typhoon No. 19 (October 2019), Typhoon No. 15 (September 2019)
The Company confirmed the safety of our customers in disaster-affected areas. We offered the use of our day-service bathing facilities that could be put into operation.
We also offered charging stations for cellphones and assisted in providing water. Through our Company's website and SNS, we provided support activities for the people in areas affected by water outage or widespread power outage, etc.
Our support activities
Offering our bathing facilities to the general public
Provision of cellphone charging stations
Assistance in providing water
Hokkaido Eastern Iburi Earthquake (September 2018)
Our residential facilities continued operation after the occurrence of the earthquake, and, at the same time, we confirmed the safety of customers who make use of our day services, home visit care services, and other services.In parallel with this, we gathered relief supplies from Aomori and Niigata Prefectures and engaged in support activities for the people in the affected areas.
Our support activities
Provision or resumption of day services
Offering our bathing facilities to the general public and providing food
Nurturing the next generation
Yokohama Children's Hospice Project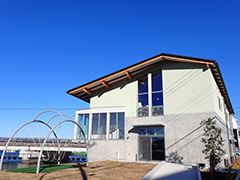 TSUKUI Group supports Yokohama Children's Hospice Project, a certified non-profit organization.
"Yokohama Children's Hospice – UMI TO SORA NO OUCHI" is a hospice for children that was born from the wishes of children and families living with life-threatening conditions, as well as those in bereavement. This hospice is a community-type, day-visit facility that supports meaningful "family time" for children with a life-threatening condition and their families while the child receives treatment or is recuperating, and fosters connections with local communities.
Aiming to provide children with many experiences, such as "playing," "learning" and other activities that may be difficult to do in their daily lives, and create a "second home" that allows children to grow every day and brings out their smiles, the nurses, nursery staff and other staff work together to support family members and ease their concerns.
Kanagawa Yume-e Contest
We sponsor the Kanagawa Yume-e Contest organized by Kodomo Net Museum.
Kanagawa Yume-e Contest is a painting contest for elementary school students in Kanagawa Prefecture. The theme is "Our World in the Future. "In this contest, we present the TSUKUI Award as one of the Corporate Supporter Awards.
The 25rd Kanagawa Yume-e Contest TSUKUI Award
The 24rd Kanagawa Yume-e Contest TSUKUI Award
The 23rd Kanagawa Yume-e Contest TSUKUI Award